An Ego Fracturing Experience
One of the fastest paths to personal growth
A few days ago, I was chatting with Lenny Rachitsky, an old Airbnb colleague who I co-invest with now. He and I were jumping into a chat about the value of a Newsletter and how he went about growing his (which is awesome and you can access it here). I mentioned how much I had been learning during my growth as a facilitator with the Atlas Project and I referred to the experience as "ego fracturing." He inquired more about that and, voila, we had the first subject of my newsletter. 
What is an Ego Fracturing Experience?
So, what is an "Ego Fracturing Experience" (EFE) and why is it so important? An EFE is an incredibly growth-filled, albeit emotionally challenging experience that happens when you fully immerse yourself into a new space that you're not actually prepared for. 
EFEs are important because they're one of the fastest ways to grow and you grow in multiple directions at once. The challenges that you face lie so far outside of your comfort zone that you become a new person by facing and overcoming them. 
Here are some of the top reasons you'd want to seek out EFEs in your life: 
🔥 They provide an opportunity to continually reinvent yourself at a blazing pace

💪 You fail repeatedly and publicly, which builds incredible resilience

🥊 You learn how to perform at a high level when you're already feeling beat up

🕞 Procrastination & perfection are no longer options

🤷‍♂️ You quickly learn to stop giving a shit what other people think about you
How does an Ego Fracturing Experience produce so much growth? 
Our egos are tricky. On one hand, they make us want so much in life (success, wealth, romance, etc), but they're also very sensitive to getting hurt. To compensate, we end up living most of our life inside of a comfort zone when what we truly want is so far outside of it.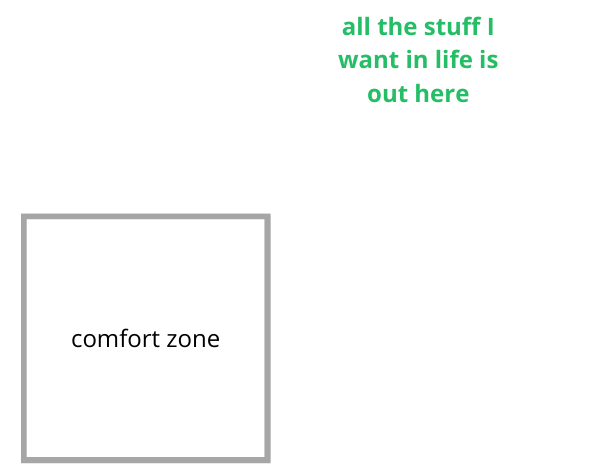 When we step outside of the comfort zone, it's almost always into the challenge zone where you'll grow if you succeed, but failing won't hurt your ego too much. These are small changes where, often, no one will know that you failed at all. Just think about all the times you tried to lose 10 pounds.
Alternatively, when you pursue an Ego Fracturing Experience, the goal requires that my behavior changes so drastically that all the smaller goals in my challenge zone kind of happen automatically.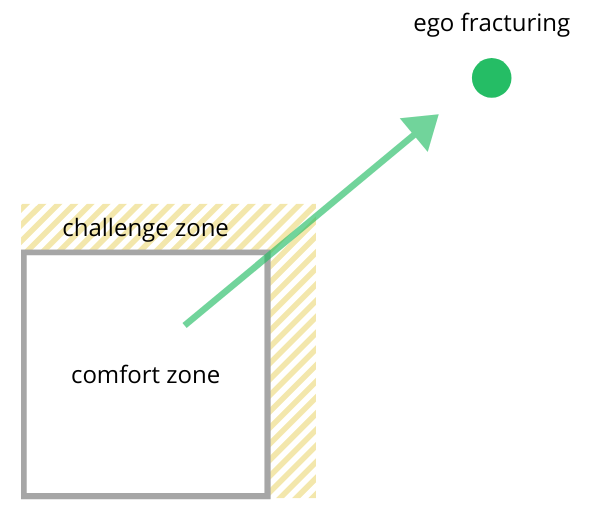 Here's a fun example so it makes a bit more sense. Let's say I tend to wake up at 8 AM and I want to move that up by an hour to 7 AM. 8 AM is my comfort zone; 7 AM is my challenge. 
The chances of me failing at my new wake up time are pretty high because there's no risk if I fail. The only person who would know I missed my goal of waking up an hour earlier is me… and I can make a bunch of excuses for why I failed (our egos are great at that). 
What would happen, though, if I instead set an audacious goal of going live on Instagram at 7 AM every morning to lead a 15-minute workout? That goal requires me to figure out all sorts of stuff my ego isn't excited about: What will all the workouts be? Where would I do the workouts? How would I promote them? Am I going to play music? How will I feel if no one shows up? Etc, etc.
My ego is on fire because of how uncomfortable figuring all of this out is. But here's what I really love about this goal: 
⏰ Chances that I'd consistently wake up before 7 AM: High

🏋️‍♂️ Chances that I'd be in much better shape: High

😴 Chances that I'd go to bed earlier: High

💭 I don't have enough time to design the perfect workout because I'm under pressure to produce them daily

🕺🏽 I'll get up and run workouts even when I don't want to because people are counting on me

🙅‍♂️ I'll keep showing up even if some people get annoyed that I'm posting my workouts so publicly
Those are just a few examples of all the new behaviors I'd have to form in order to accomplish that goal. Again, all I wanted to accomplish originally was to wake up at 7 AM. But the goal I committed to is so big that waking up at 7 AM becomes the easy part. Whatever part of my ego that was attached to waking up at 8 AM… that's gone now.
The point is that when we choose goals or step into experiences that lie drastically outside of our comfort zone, we end up redesigning who we are in order to accomplish the goal. Our egos, along with its excuses and efforts to keep us safe, are overwritten and we develop an entirely new comfort zone.
How do I know I'm in Ego Fracturing Experience?
All in all, I'm convinced that EFEs are the best for us. Something inside of us longs for this level of friction and growth potential and we tend to idolize people who've made it to the other side. 
To achieve massive goals, we have to fracture our egos and evolve new ones. Writing this Newsletter itself is ego fracturing for me because I can find so much evidence that I'm not qualified to write or be an "authority" on this. Or I see so many people who are months and years ahead of me and run into a conversation about whether I'll ever catch up.
Here are some things you can ask yourself to determine if you're in or stepping into an Ego Fracturing Experience: 
Am I facing challenges every day that I haven't dealt with before? 

Am I pursuing a goal or business that a lot of people know about? 

Am I taking on a role where I feel underqualified? 

Do I feel like I'm currently "faking it until I make it?" 

Are things that were previously a challenge for me feeling much easier? 
In a later newsletter, I'll talk about tools to support your sanity while you're in an EFE. But, the first step is realizing that you're in one. Are you in an EFE right now? If so, I'd love to know about it. 
That's it for this week! Hit me up if you have any thoughts, feedback, or insights to share.
---
If you found this valuable, consider sharing it with friends, or subscribing if you aren't already.
Cheers!
Brian ✊🏽