Discover more from Growth Snacks
I'm Brian and each week I publish content on personal growth. Sometimes it will be things I've learned in my own growth experience, but most times I'll be answering readers' questions about personal growth.
😤 How to give feedback to someone who doesn't want it
I'm Brian and each week I publish content on personal growth. Sometimes it will be things I've learned in my own growth experience, but most times I'll be answering readers' questions about personal growth. Send me your questions, and in turn, I'll do some research & interviews and humbly offer the best advice I find.
If you find this newsletter valuable, consider sharing it with friends, or subscribe if you haven't already. 👇
---
This is the third part of a three-part series on feedback. If you haven't read the first two parts, you can check them out here:
This week, we're going to talk about a few feedback nuances. There are a bunch of feedback structures, but even when we apply the steps of feedback correctly, we can end up in one of these outlier situations. There aren't a ton of roadmaps that explain how to get out of these situations. That's what I'll humbly provide here.
We're going to chat about the following nuances: 
Giving feedback to someone who doesn't want it. 

You're giving feedback and it doesn't appear to be landing. 

What to do with feedback that you don't agree with. 

The feedback you don't have to ask for.
The goal here is to get us all "unstuck" from these situations because if we're stuck in one or more of them, we're just not progressing as fast as we could be. Beyond that, when we're feeling stuck, we're less likely to give other people feedback because we don't want to get stuck in a second or third situation.
Ok, so let's get unstuck.
Q: How do I give feedback to someone who isn't open to feedback?
Every time I tee-up feedback to a personal development group or leadership team, this question pops up. I'm being serious here; it pops up 100% of the time. There is always someone who wants to figure out how to give feedback to a person who is not open to their feedback.
Typically, what's really going on here is that we want someone else to change. This is what's driving us to be so eager to get the feedback in. Somewhere inside of us, we feel that if this feedback can change the person, it will make our lives better. It's worth looking at why we want to give them feedback so badly.
What I never get into in those sessions is the "how I would do it" part. If I know that my intentions are pure, then there are a few things I can try to overcome this situation.
Option 1: Try to force it
This is the least effective of the three options, but I do know a coach who, when someone is not open to feedback will literally say "shut up and take the feedback." Typically she has a relationship with a person where she can pull that off. You might not.
If you don't have a solid foundation of trust with the recipient, this will blow up in your face. But if you feel like you can be direct, give it a shot.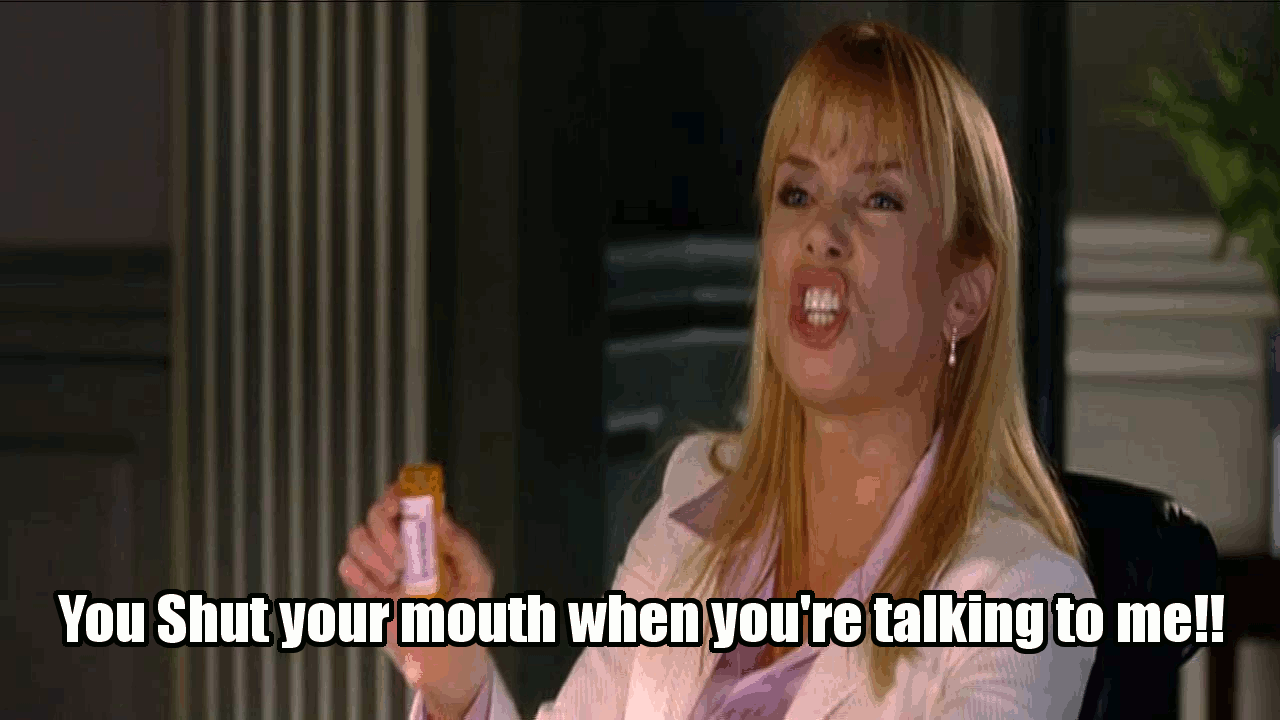 Option 2: Be vulnerable 
This option is more effective. When you're giving someone else feedback, you're trying to penetrate their defenses to get the feedback in. You also have defenses up, even if you're not aware of them.
If you want their defenses to drop, it might require you to drop your defenses first. You can open up about similar feedback you're received or mistakes you made because you were less aware. You can also just let them know how much you really care about them and their growth. This has a high probability of opening them up to the feedback.
Option 3: Give it to someone they respect
This is the option I've seen to be the most effective. In part two, we talked about being the "Man in the Arena" and how you should seek out feedback from people who are playing the game that you want to play.
If someone is not open to your feedback, in their mind, you might not be in the arena with them. They might not respect what you've accomplished in this regard and, in that sense, you don't have a rapport with them. Don't take it personally.  
If you still really want the feedback to land, you can pass it on to someone who does have a rapport with them. This could be a mentor, their manager, or a close relationship. Choose someone that they tend to listen to.
Just to be clear, this isn't gossip, complaining, or tattle-telling. You're looking out for the best interest of the recipient. You're simply bringing in another person to support opening up a dialogue between you and the recipient.
Q: I'm giving feedback and it just doesn't appear to be landing. What am I doing wrong?
You might not be doing anything wrong. In part one, we talked about how feedback is always about the other person. It's not focused on me or my feelings; it's about helping them be the best version of them, for them. 
How they take the feedback is also up to them. Often we give someone feedback and want to see an immediate reaction from them. That can be an emotional response or immediate action step. It's possible that the feedback is landing and it doesn't look the way you thought it would.
At Atlas, we'd often tell our coaches not to try to deliver the "perfect feedback" because "perfect" wasn't up to them. As a coach, you don't truly know what the other person needs to hear to make the light bulb go off. You're just trying your best to support them. 
Feedback grows within the recipient the same way it grows inside of the person giving the feedback. You likely thought about the feedback for a while before you gave it. We get to have the maturity to shut up and watch to see what the recipient does with the feedback. They need time to think about it and only time will tell if it landed.
Q: I got some feedback and I don't agree with it. What do I do in that situation?
Feedback isn't true with a capital "T." If you've looked at the feedback that you received and you truly don't think that it applies, then throw it away. A coach that I know has a nice short story about this: 
"Take a lesson from the human body. It will take whatever you eat, no matter how healthy or crappy the food is, and turn it into energy. Anything that it can't turn into energy, it just lets that shit go!"
So there you go. If you really can't use it, then let that shit go. Move on with your life. 
What I don't think you should do is hold it against the person who gave it to you. They were just calling out what they saw, from their own experience. I've seen people hold onto stuff like this and completely discredit the giver, the company, or the training based on one piece of feedback that they don't agree with. 
What's funny is that the person who gave you the feedback probably doesn't even remember what they said. So you're the only person who's keeping it alive. 
Quick example since it just popped into my head. When I was at Airbnb, I was given some slides to present at a San Francisco team meeting about 10-minutes before the presentation. SF is headquarters, so we're talking hundreds of people. These aren't my slides. I don't even control the clicker. 
You can guess what happened. It was not my best work and I'm a stronger presenter. Anyway, when I'm handing the microphone back to Brian Chesky (the CEO), he says "dude, you have to practice." It was a really crappy moment for me and I thought about that feedback in future interactions I had with him, so I showed up awkward. 
Chesky didn't know the details of how I was assigned to present the slides. He didn't know I was set up to fail and went for it anyway. I can guarantee you he doesn't remember saying what he said at all. But it screwed with me for months... until I let that shit go.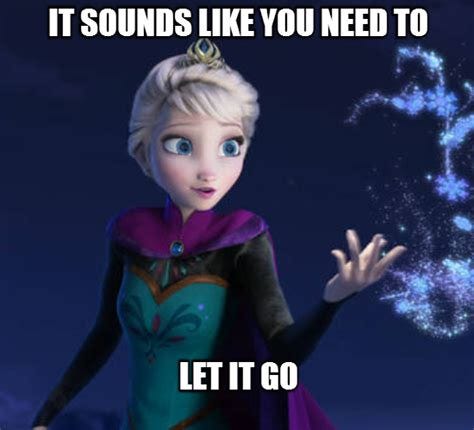 The feedback you don't have to ask for.  
In part two, I challenged people to ask others for feedback. Some of you asked me, which was unexpected and humbling. If you didn't ask for feedback, you can do that anytime. 
If you choose not to ask for feedback, that doesn't mean that feedback isn't out there. One of the things that I love about feedback is that it's around us at all times.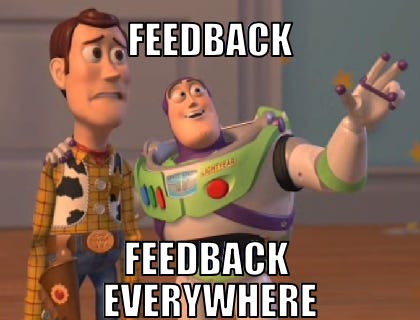 The results of our individual and collective choices, behavior, and values are always visible if we're willing to take a look at it. So without asking for feedback, we can always look at our results.  
🥦 Our weight or energy levels are feedback for our relationship with our health. 

💰 Our bank accounts are feedback on how we're spending money, avoiding finances, or shying away from risk. 

📉 Did someone else get the promotion? That's feedback. 

🔥 All these west coast forest fires were fighting is feedback for how we've been treating the planet. 

🦠 Coronavirus deaths in the US - feedback on how we value "freedom" & economic prosperity over human life. 
It can be challenging to look at feedback like this and to accept our personal responsibility in it. But, when we can pause and look, it can be more powerful than anything anyone tells us. 
When I was in my early 20s, I had a relationship with a woman who didn't support the relationship I had with my friends from college. She wanted me to leave college behind and she demanded a lot of my time and attention. When a couple of my college friends got married and I wasn't invited, that was feedback for the value set I had prescribed for those years. It was a wake-up call to re-build a lot of my relationships. No one had to tell me that. The feedback was in plain sight.
---
💥 Actions you can take
Is there some feedback you've been carrying that isn't serving you? Can you let it go this week?

What feedback is around you that you don't have to ask anyone for, based on the results you're seeing in your life? 
🌟 Other things you might find inspiring this week: 
Ewan McGregor did a 13,000-mile ride from the tip of South America to Los Angeles on an electric motorcycle. It looks impressive and seems like an environmental statement. 

Shuffling or Cutting Shapes looks fun, challenging, and like a hell of a workout. I would guess it's an ego fracturing experience learning how to do it. 

Pierre Gasly bounced back from being kicked off his team & losing his best friend in a crash to win his first Formula 1 race. An inspiring lesson in self-trust and resilience. This is what achieving your childhood dream sounds like.
---
That's it for this week! Hit me up if you have any thoughts, feedback, or insights to share. 
If you found this valuable, consider sharing it with friends, or subscribing if you aren't already.
Cheers!
Brian ✊