Discover more from Growth Snacks
I'm Brian and each week I publish content on personal growth. Sometimes it will be things I've learned in my own growth experience, but most times I'll be answering readers' questions about personal growth.
🗞 What it means to roll over your wins
I'm Brian and each week I publish content on personal growth. Sometimes it will be things I've learned in my own growth experience, but most times I'll be answering readers' questions about personal growth. Send me your questions, and in turn, I'll do some research & interviews and humbly offer the best advice I find.
If you find this newsletter valuable, consider sharing it with friends, or subscribe if you haven't already. 👇
---
There is a concept called rolling over your wins that produces tremendous results.
The practice might sound familiar. But the first time I heard it named in concept as a habit was on a How I Built This podcast with the founder of S'well water bottles, Sarah Kauss. She talked about how whenever she would do something well as a kid, her father would immediately ask her what the next thing she could do is.
The premise is that, for many of us, when we do something well or knock a goal out, our initial reaction might be to take a quick rest. We might pause to celebrate the win and or reward ourselves with something for the good job that we've done. If you've ever eaten some sweets right after a long run, then you know what I'm talking about; it's easy to justify eating the calories after a long workout.
The argument around rolling over your wins is that the best thing you can do after a win is to immediately tackle another task. You carry the momentum from the prior win into the next task, using that momentum to produce yet another win. It might look something like: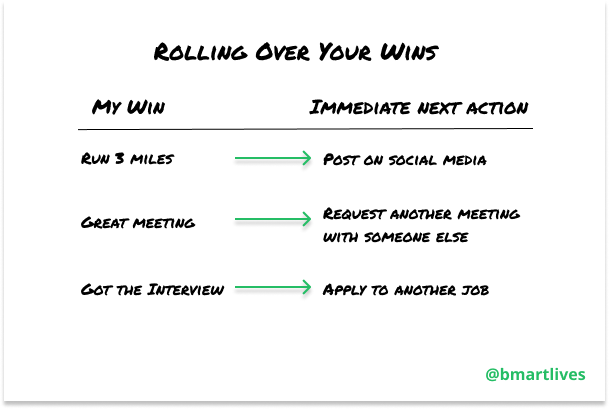 I've been practicing this more consciously since I heard Sarah mention it on that podcast a few months ago and there are three main reasons why I think this methodology produces great results.
1. Hitting is contagious 🏏
First, yes, that is a cricket bat emoji because, shockingly, there is not a baseball bat emoji within iMessage. 🤣
Regardless of the sports analogy that I use here, the message is the same. Hitting is contagious. Meaning that when you "hit" or you see someone else "hit," it raises your personal level of confidence that another hit can happen.
What's even better is that confidence can carry across unrelated disciplines. So, when I produce a win in one area of my life, I can immediately carry that winning energy into a completely unrelated area.
For example, let's just say I went to the dentist last week for a teeth cleaning and I find out I have zero cavities. That is a win! I'm pumped because I don't have to go back to the dentist for another 6-months. I can take that winning energy and immediately roll it into writing an email, asking for a raise, or teaching my dog a new trick.
If you've ever heard that someone is "on a roll," that's just their hits adding up. The only way to get that "on a roll" effect is to choose to keep swinging for hits instead of resting. So, the next time you get a win, swing at something else and see if you can produce another quick win.
2. Minds and egos can't tell the difference between a big win and a small win
Perhaps leaving the dentist with zero cavities doesn't feel like as much of a win as, say, finding $1,000 dollars on the ground. But a funky feature about the mind is that, chemically, it really isn't that different. The nature of all excitement is that it gives you a boost and then it fades.
So, a win in just about anything is a certain chemical boost that you can roll into just about any other task, assignment, or endeavor. This is really good news because baby wins are so much easier to come by. You can collect a bunch of baby wins… then take on a major task when you already feel successful. It might look something like:
Win #1: Wake up before 7 AM

Win #2: Meditate for 15-Minutes

Win #3: Exercise for 30+ Minutes
At this point in my morning, I'm feeling somewhat unstoppable. By the time you take on my first major task of the day, which is likely harder than all of those prior tasks combined, I'm already feeling like a winner.
I'm a huge fan of baby wins and rolling those babies into taking a bite out of something hefty. I would encourage you to find a baby win before you tackle your next big task and see how it feels.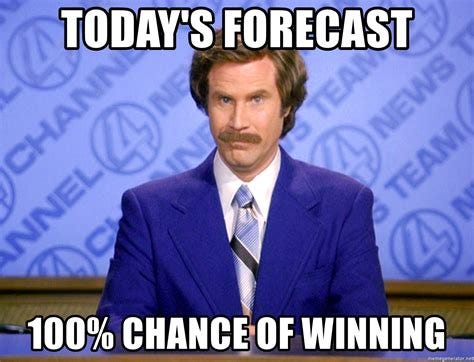 3. Consistent winning can lead to forming great habits
Have you ever seen someone perform a ritual before they took an action? Here are a couple of familiar examples:
A man at the casino plays with the dice a certain way before he rolls them onto the craps table. 🎲

A woman eats a very specific, light breakfast before she attempts her marathon. 🍌

A baseball player plays with the bat, kicks the dirt, and shimmies a certain way before he steps on a plate. 🥎
These are all habitual behaviors that came out of winning. The man at the casino prepped the dice that way at some point before having a really great night at the casino and the mannerisms stuck with him. The runner might have run a personal record after eating that meal at some point in the past. The baseball player… he's hit a lot of balls after doing that warm-up ritual.
When we win, our minds try to understand how we won and it wants to repeat that behavior. We end up forming "winning habits" that increase our confidence and produce more wins.
Here's the hiccup. If you don't repeat the task enough, your mind won't pick up on the winning habit. Every example I noted above has high repetition. You roll dice every 60-seconds in craps. A marathoner runs nearly every day. A baseball player swings 20+ times a game. They repeat, repeat, repeat.
You want to roll your wins quickly so that you form the winning habits. Our minds will start to attach the winning to the habit and, even if the habit is a placebo, it will help us produce even more wins. Confidence works that way.
Then, those habits stick and apply to other things in life, because winning crosses over. So, the next time you don't want to floss your teeth before bed… think about how that habit might start to result in wins at the gym, at the office, or in your relationship.
If you want a really interesting example of an odd winning habit, read about how multiple NBA teams became addicted to peanut butter and jelly sandwiches.
Winning only makes you happy for a while, so use it.
You don't have to roll wins indefinitely. You can start by taking one win and rolling it into just one more task and see how it goes. But, use the win because the energy boost will go away pretty quickly if you don't.
Even energy boosts from really big wins fade over a brief period of time. Maybe you thought you would be happy forever when you got engaged, bought your first home, drove home your first Tesla, or landed the dream job. But unfortunately, our minds just get used to things and you end up just as happy (or unhappy) as you were before the event happened.
You can see that in a graph here. People get really happy the year before they're married, the year they get married, and the year after. Then, they return to their baseline happiness level.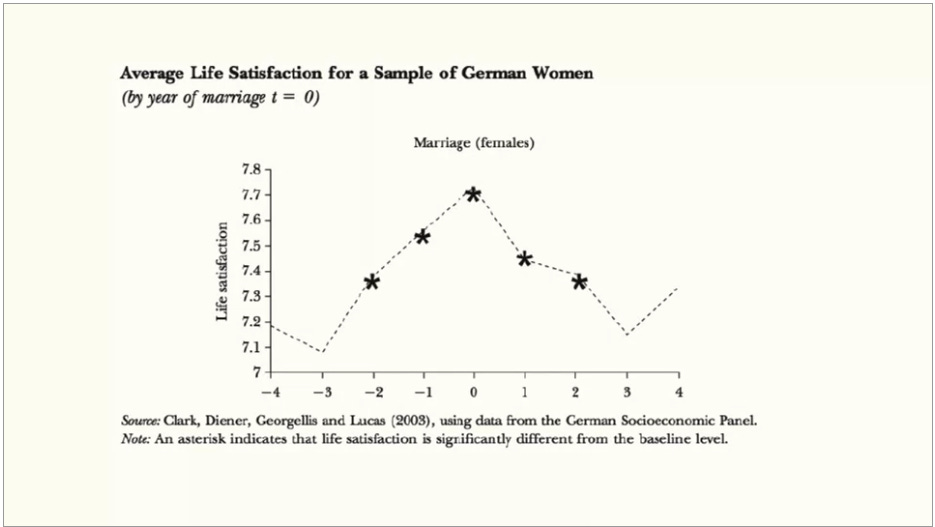 If that is the graph for marriage, you can imagine how brief the curve for flossing, meditating, or waking up before 7 AM is. By tomorrow, you'll probably forget the wins that you had today. Use the win while it's fresh.
---
💥
Actions you can take
Try rolling your wins this week. When you get a win, immediately take on another task that you can win as well.

Try two or three additional tasks if you're really crushing it. Let the momentum carry you.

Make a list of baby wins that you can count on to get a winning mindset going. It can be as simple as meditating, exercising, or winning a game of solitaire on your phone.
💪
Other things that might inspire you this week
This video is amazing: I'm proud of you. Take a look and, no matter what your challenges this week are, know that there are people out there that are proud of you.

This reminder on 7 ways to have a positive impact on your (or someone else's) children.
---
That's it for this week! Hit me up if you have any thoughts, feedback, or insights to share.
If you found this valuable, consider sharing it with friends, or subscribing if you aren't already.
Cheers!
Brian ✊