Discover more from Growth Snacks
I'm Brian and each week I publish content on personal growth. Sometimes it will be things I've learned in my own growth experience, but most times I'll be answering readers' questions about personal growth.
🏔 Can I Remind You That You Have a Vision?
As many of you did, I watched a presidential debate this week that was frustrating. It was held between two grown men, but if you've ever seen two kids fight over a kickball on a playground, you'd recognize some similarities.
It's frustrating that this is what leadership debates in the US have come down to. I've heard and read a lot of comments that show how shocked, upset, and exhausted people are with both the state of the world and the choices that they've been given on who can lead.
I, personally, felt hopeless.
That was the only word I can think of. Here I stand with a mission and vision to make people better and that debate… it showed me just how big of a mountain we'd all have to climb for that vision to come to fruition.
Then, a friend reminded me that I could be Compassionate, Loving, and Determined in moments like this. I was curious where he got those words from… then I realized they were written on the sweater I was wearing. It's funny how things can be (literally) right under our nose, ready to support us while we can be completely blind to it.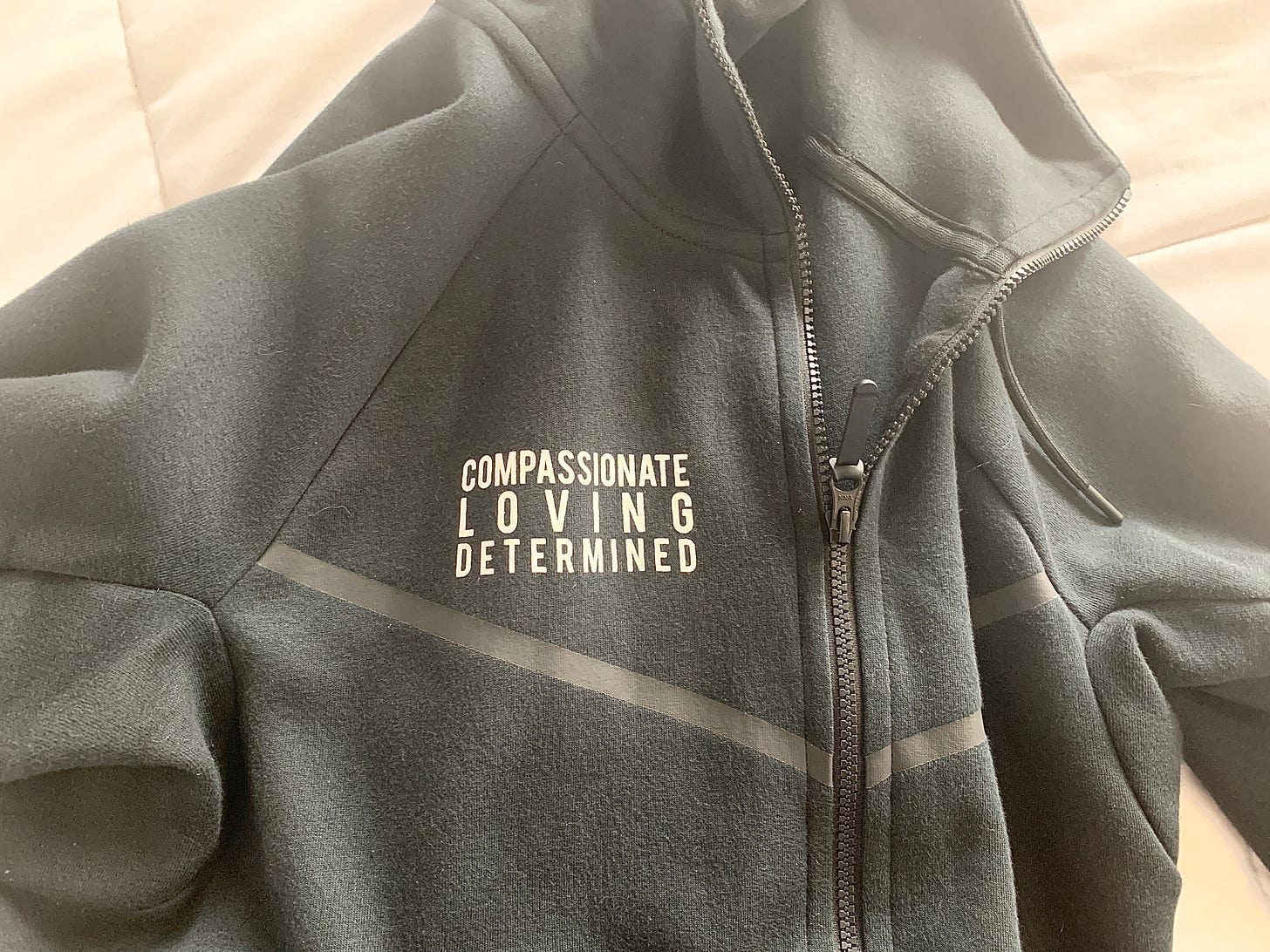 So, this week, I wanted to forward that encouragement. Even when things seem to be as bad as they can get, we all have the choice to focus on the positive.
You still have access to the tools that support you, like meditation, moving your body, or reaching out to a coach. You still have a voice and an ability to use it to influence others. You still have a vision for your life to pursue and no one said that would come without hiccups.
What is your vision for your life?
You're not wrong if you feel angry. But fear and anger are what the system banks on and neither of those motivators is as powerful as love, hope, passion, or your vision for your life. Our vision gives us all something that's worth standing for and it's so much easier to stand for a vision than to fight against what we don't want.
I've personally been encouraged by people who've stepped up to take matters into their own hands.
For example:
I'm sure you know of others that are taking personal responsibility and who are stepping up in a big way.
I'm deeply curious about what you and I can do to shift our emotions, focus on our visions, and make someone else's day better?
All of this chaos… it provides an excellent opportunity for us all. An opportunity to be Compassionate. Be Loving. Be Determined.
---
💥 Actions you can take
Find your vision and read it out loud. If you've never written it out, write it out!

What action can you take this week that keeps that vision alive?

Register to vote. Or, if you already have, encourage someone else to register.
🌟 Other things you might find inspiring this week
This very intriguing discussion on how factual information can easily be forgotten after just a few generations.

If you believe there are a lot of things about nature that we don't understand, you should check out the Fantastic Fungi documentary on Netflix.

If you're still not going to the gym, try this Tabata workout.
---
That's it for this week! Hit me up if you have any thoughts, feedback, or insights to share.
If you found this valuable, consider sharing it with friends, or subscribing if you aren't already.
Cheers!
Brian ✊